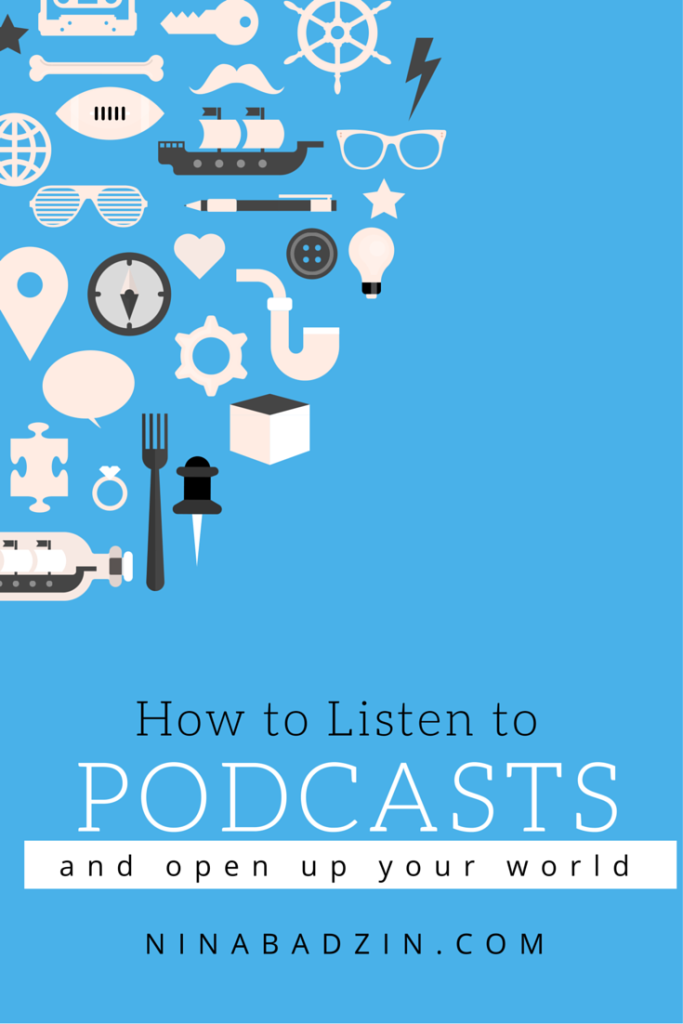 I've been talking nonstop about podcasts over the past year. Fine, I can't shut up about them. I mention one or two in each "Do Listen Read" post, and I try to discuss them in person whenever I can find someone as podcast crazy as I am. What is a podcast? Some are like talk shows and some are a bit more like episodic TV shows with cliffhangers. You can find podcasts about every topic. Some are better quality than others, and most are free!
Whenever the podcast subject comes up, I get the same two questions. #1. How do you listen to podcasts? (As in, how do you get those magical shows to come through the headphones?) AND, #2. How do you make time to listen to so many? So, there's a technical question here and a deeper time-management/priorities question. I will tackle both.
HOW TO LISTEN TO PODCASTS ON AN iPHONE
#1. I don't know a thing about Android phones. Sorry! Now find the purple podcast icon. It comes on every phone. You probably never noticed it before, but it's there somewhere. It might not be on your front screen so scroll to other pages if necessary.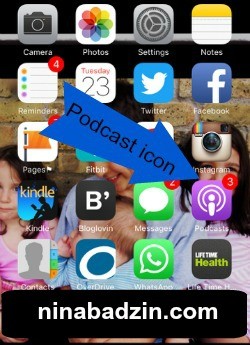 #2. After you press the podcast icon, you will see a screen where eventually some of your current episodes will sit. The screen that appears for you now will look different from mine because my phone is already full of downloaded episodes. To find some shows you might like, first press the "search" magnifying glass on the lower right of the screen. Then in the blank space on top of your screen type in a topic you can imagine listening to people chat about. Another option is to press the "top charts" icon next to the magnifying glass for ideas about what is popular in the podcast world. The little clouds with tiny arrows next to each episode is what you need to press to download a single episode. I highly recommend only doing this on WiFi.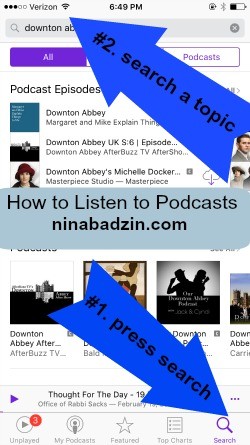 #3. If you want episodes of a particular podcast to appear in your "my podcasts" section any time there is a new one, ("my podcasts" is on the lowest part of your iPhone screen), then the best thing to do is subscribe to the podcast. Click on any of the episodes on any single episode and it will bring you to a page listing all the recent episodes from that podcast with an option, on the upper right, to subscribe. (I have never listened to the podcast pictured below. It's just an example. If I wanted to subscribe I would hit subscribe.)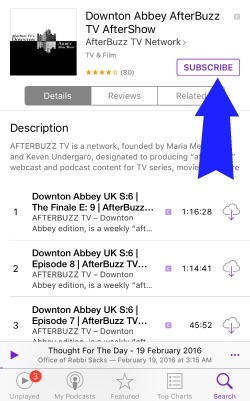 #4. Here are some of the podcasts in MY "my podcast" section, which means I subscribe to them. The list is much longer, but this gives you a taste of how the screen will look with the podcasts you like. Most podcasts come out once a week or less frequently so that is why people subscribe to a handful. Other than what is pictured below, I also listen to Rabbi Sacks, Happier with Gretchen Rubin, Radio Lab, Tablet's Unorthodox, Beyond Your Blog, Slate's Double X, #Amwriting with Jess & KJ, and some others. Other than Unorthodox and Double X, I do not listen to every episode of every podcast. But you still might be wondering, HOW do I listen to so many podcasts and why? See my next point.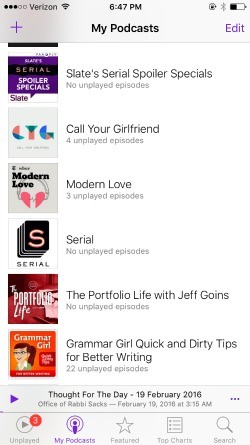 HOW DO YOU LISTEN TO SO MANY PODCASTS?
Well, I could ask you, how do you make time to attend so many yoga classes, or run so many miles, watch so many football games, or watch so many hours of CNN? I simply make the time because I enjoy it!
But why do you enjoy podcasts? Podcasts allow me to learn something new or hear something entertaining, and most importantly, they help make activities I find otherwise odious to be much more enjoyable. That's more of a "why" answer. The "how" is this: I listen when I walk on the treadmill, walk outside, lift weights at the gym, when I'm alone in my car during a 20 minute school pick-up line 5 days a week, when I'm alone in my car any other time, and sometimes when I'm cooking if I happen to be alone in the house. (Though if alone at home while cooking I am more likely to watch Scandal, Downton Abbey, Younger, Crazy Ex-Girlfriend, or something else on the DVR.)
There you go! That's the big answer. I mostly listen while I workout and drive. This also means that I never listen to music when I'm alone, but I don't miss it. I listen to plenty of music when the kids are in the car. If I happen upon a great audiobook, then the book will supersede the podcasts for a while. Oh! And this is an important point to repeat: I do not finish every podcast episode and I do not listen to every episode of every podcast. You will always see a description of the episode so if the topic doesn't float your boat, delete it.
Have I convinced you to try? If you already listen to podcasts, what are you favorites?
---
The following two tabs change content below.
Nina Badzin is a freelance writer, a writing workshop leader at ModernWell in Minneapolis, ModernWell's book club host, and the friendship columnist at The HerStories Project. She reviews 50 books a year on her blog and writes essays, short stories, and articles for other sites and print magazines. She lives in Minneapolis with her husband and four children.
Latest posts by Nina Badzin (see all)