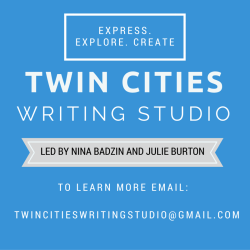 So many of us make time to exercise our bodies, but what about our minds? We'll invest in classes at a yoga studio or join a gym. But if you're passionate about writing (even if you've never made time in the past) wouldn't it be cool to join a small community dedicated to establishing a writing practice and improving your craft?
Welcome to the Twin Cities Writing Studio.  (REGISTER FOR NEXT SESSION HERE.)
Along with author and blogger (and my good friend), Julie Burton, I absolutely love running the Twin Cities Writing Studio. Come play with us on the page, face-to-face. As much as I value my online writing communities, there is something priceless about spending time with other writers in person.
I'd love to write with you! Details are below.
TWIN CITIES WRITING STUDIO—express, explore, create
Whether you're an established writer looking to connect with other Twin Cities writers, or you feel inspired to put pen to paper for the first time, we welcome you!
WHAT WE ARE: TC Writing Studio is a safe, confidential, and supportive community of women led by Julie Burton and Nina Badzin, experienced writers, bloggers, and teachers. Group members will have the opportunity to freewrite, share writing, receive constructive feedback from group members and group facilitators.
WHAT YOU GET:
Establish, maintain, or improve your writing practice.
Find inspiration and motivation from others.
Finish writing pieces that you have been working on for years, begin something new, generate ideas that will keep you writing long after the fall session ends.
Workshop any piece of writing from speeches to essays to persuasive emails.
Learn about blogging, magazine article writing, book writing, and publishing.
WHEN AND WHERE: We start new sessions about every 10 weeks at the Hopkins Center for the Arts. Find registration information here and feel free to ask questions at twincitieswritingstudio@gmail.com.
TESTIMONIALS:
"Twin Cities Writing Studio has awakened a dormant creativity within me. I look forward to our time each week—the sisterhood, the support, the community, the insight, and the inspiration. This class has helped me rediscover writing, something I love and makes me feel more whole and more complete. I recommend it to anyone who writes or even thinks about writing." – Jenny D
"I can't say enough about the magical chemistry within the Twin Cities Writing Studio. The encouragement and feedback I've received, especially from Founders Julie Burton and Nina Badzin, have impacted my writing life tremendously. I've had a couple of really unexpected doors open for me as a result of connections I've made through this group. As a writer, I gravitate to working solo, but this group has reminded me how important and motivating it is to connect with other writers (not just in Facebook groups, but in real life!) who share a love for writing the stories down and who genuinely want to help you achieve your goals."  ~ Julie S
"Nina Badzin and Julie Burton's Twin Cities Writing Studio is a godsend for both novice and experienced writers. They artfully cheerlead the writer within you to achieve more focus to follow your writing path. I have become a better writer from their weekly insights—all while enjoying a sisterhood of fellow wanna-be and already-are Twin Cities writers. A great experience!" ~ Jennifer M
"The Twin Cities Writing Studio has become my writing home; it's my practice, my inspiration, my accountability and my community. Whether or not I'm working on something, it's the place I go once a week to be a writer." ~ Kristin