I'm so excited to announce my newest project!
The best part of being a non-niche writer is that I'm always open to new writing and blogging opportunities no matter the subject. I've written a parenting column, a Twitter tips column, a Jewish-themed column (still doing that for several sites), book reviews (still doing that, too), and worked on numerous freelance pieces and short stories that do not fit in any particular category.
All of those writing opportunities opened up for me because one day back in November, 2010 I decided (sort of on a whim) to start a blog. Since those early days I've learned so much about the online writing world, social media, and how all this writing "stuff" affects my non-virtual relationships, too. My point? Today marks another subject for me to tackle in a more formal way: "Modern Connections."
I'll be writing a monthly advice column for The HerStories Project called "HerTake: Practical Tips for Modern Connections."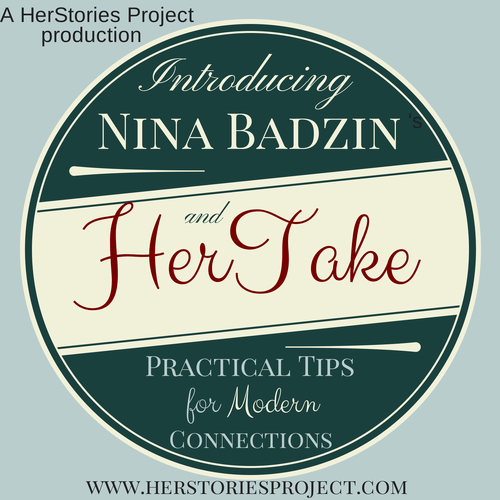 Hold on. I'll explain. 
I've written about friendship often on my blog. The subject gets me going so much that I had an essay accepted by The HerStories Project's first anthology, which is how I got to know about the exciting things happening on TheHerStoriesProject.com.
What is the Herstories Project?
The HerStories Project is a website and more specifically, an up-and-coming book publishing and writing resource for women. It was started by Jessica Smock and Stephanie Sprenger, two impressive entrepreneurs, writers, and editors with a second collection of essays on friendship called My Other Ex: Women's True Stories of Leaving and Losing Friends releasing September 15th, and a new essay writing boot camp starting September 22nd. When Jessica and Stephanie recently decided to create the "HerTake" advice column for their site and invited me to be the column's voice, I spent roughly 45 seconds deciding how to respond.
I CANNOT WAIT TO START! This project could not fit me better! I would love to explain more about what kind of questions I'll tackle and why I'm the right person to do it, but Jessica and Stephanie wrote a wonderful blog post introducing me and explaining how to ANONYMOUSLY ask me questions so I'm sending you in that direction instead.
I hope you'll click over and see what HerTake (MY take!) is all about and how it will work. My column goes live on September 17th, but I need your questions first. Each month we'll focus on a different theme. For September's theme and directions on how to ask anonymously, click here.
Thank you to Jessica, Stephanie, and the HerStories Project for choosing me for this wonderful new gig. Can't wait to get started! (Comments are closed here, but open at the introductory post at HerStories.)
The following two tabs change content below.
Nina Badzin is a freelance writer, a lead writing instructor at ModernWell in Minneapolis as well as ModernWell's book club director. She reviews 50 books a year on her blog, writes reviews for other sites, and has a friendship advice column at The HerStories Project. She lives in Minneapolis with her husband and four children.
Latest posts by Nina Badzin (see all)