Don't think I'm crazy, but I have some ideas to change my approach (and your approach) to the High Holiday season. Honestly, even if you're not Jewish, these are methods that could make a difference for other holidays, too. Do you trust me? If we want this year's holidays to feel different, then we have to try something new.
I have three easy ideas in mind for a more meaningful, relevant, and memorable "holiday season."
Come see what they are on my tcjewfolk.com column this month!
P.S. (No level of religious observance required. Yet, even the most observant Jews will find meaning in these ideas, too. This is for EVERYONE!)
P.P.S. I'm still taking questions about "friendship in crisis" for this month's HerTake: Practical Advice for Modern Connections column. Did you read about my new column on theherstoriesproject.com? You can ask an anonymous question here!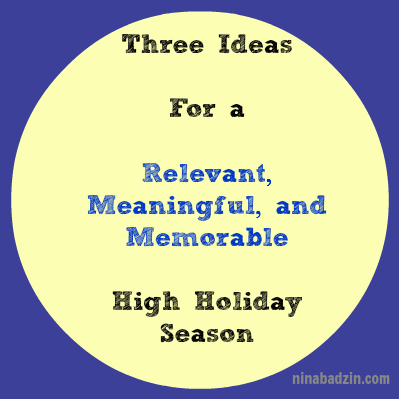 The following two tabs change content below.
Nina Badzin is a freelance writer, a lead writing instructor at ModernWell in Minneapolis as well as ModernWell's book club director. She reviews 50 books a year on her blog, writes reviews for other sites, and has a friendship advice column at The HerStories Project. She lives in Minneapolis with her husband and four children.
Latest posts by Nina Badzin (see all)