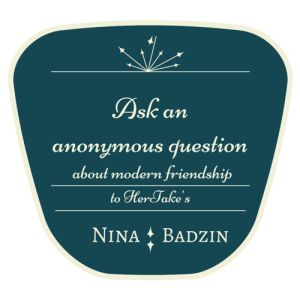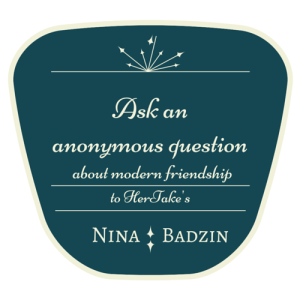 Have you ever worried that you consider someone a good friend, but the feeling isn't mutual, at least not equally mutual?
This week's friendship question comes from someone who fears she's a C-list friend to one of her oldest friends. I gave her my two cents on what to do next, but I'm sure she'd love to hear from readers, too. Thanks for chiming in!
I'd love to hear your questions about friendship, difficult social situations, as well as online connections that could use some guidance. Ask me an anonymous question using this form.
____________________________________________
Do you receive my occasional newsletter?
The following two tabs change content below.
Nina Badzin is a freelance writer, an advice columnist at The HerStories Project, a book reviewer at greatnewbooks.org, and a co-founder of The Twin Cities Writing Studio. She lives in Minneapolis with her husband and four children.
Latest posts by Nina Badzin (see all)