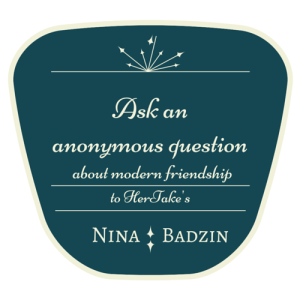 Hello friendship advice seekers, advice givers, and those who just like to read about the topic. I'm back for April with a really good question from a married woman who works from home and misses the chance to have close guy friends (or at least one). Does marriage mean the end of certain types of friendships?
I thought her question was excellent and one that would foster some good conversation among readers. When writing my answer, I asked a few friends of mine for their opinions and not everyone agreed with me. (That's typical, but this time I for sure came down 100% on one side.)
I hope you'll join the conversation. What can a married woman do if she misses having close friendships with men?
As always, please ask an anonymous question any time with this link. And I've made a page on my blog where all the questions I've answered are listed neatly in one place.
Have a great week everyone! 
Do you receive my occasional newsletter?
The following two tabs change content below.
Nina Badzin is a freelance writer, a lead writing instructor at ModernWell in Minneapolis as well as ModernWell's book club director. She reviews 50 books a year on her blog, writes reviews for other sites, and has a friendship advice column at The HerStories Project. She lives in Minneapolis with her husband and four children.
Latest posts by Nina Badzin (see all)