This week's question at The HerStories Project comes from a woman who feels that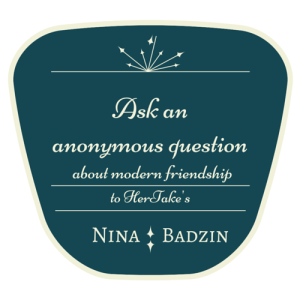 despite having many acquaintances and social activities, she has no close friendships. She describes her friendships as shallow (the relationships, not the people).
I tried to help with some practical advice, but I also felt that her question highlighted some major assumptions she was making about people and about friendship in general. I'm hoping the angle I took in my answer to combat those assumptions will help as well.
Come and see if you can add some assistance, too. I love that this column has turned into a group discussion that helps the person asking the questions and all of us who like to take care of our relationships.
RANDOM REMINDERS
You can ask an anonymous friendship question here.
I keep a list of all the questions I've already answered here.
The radio podcasts are here.

The following two tabs change content below.
Nina Badzin is a freelance writer, a lead writing instructor at ModernWell in Minneapolis as well as ModernWell's book club director. She reviews 50 books a year on her blog, writes reviews for other sites, and has a friendship advice column at The HerStories Project. She lives in Minneapolis with her husband and four children.
Latest posts by Nina Badzin (see all)