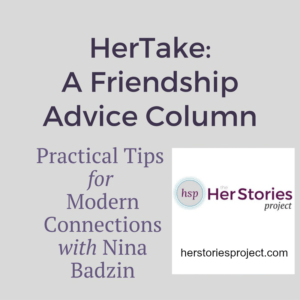 Dear Nina,
I considered "Liz" one of my closest friends. Last year, we spent almost every weekend together. We even took a vacation together the year before that. I know her family well and have been to her house various times. Recently, however, she has been avoiding me.
Initially, she started distancing herself by saying, "I'm busy." Then the meetings reduced to once a month and eventually once every few months. Now, we hardly get together at all.
I still put in the same effort to ask if she is free and can meet. I see her enjoying and partying with other friends—some common to both of us. But even on those occasions, I haven't been invited. I tried speaking to her as well via text messages asking if all is okay. She always answers with some form of "I've just been busy lately."
One important point to note is that we are colleagues and she's now my boss at work. . .
---
The following two tabs change content below.
Nina Badzin is a freelance writer, a writing workshop leader at ModernWell in Minneapolis, ModernWell's book club host, and the friendship columnist at The HerStories Project. She reviews 50 books a year on her blog and writes essays, short stories, and articles for other sites and print magazines. She lives in Minneapolis with her husband and four children.
Latest posts by Nina Badzin (see all)