Note: A different/shorter version of this essay appeared as a guest post on the writing blog, Write it Sideways, in April 2010. It's been extensively expanded and updated!

Have you become an agent-search addict instead of a novelist? If you recognize yourself in the following scenario, then you need help.
You spent two years writing a novel then revised it countless times. Armed with tips from the likes of former agent Nathan Bransford and super agent-bloggers Janet Reid and Kristin Nelson, you crafted such a compelling query letter that a number of agents requested "a look." Now you're a writer, you told yourself. Now you're in the game.
Rejections to your partials and fulls trickled in one-by-one, but you were prepared and realistic. You sent more queries in batches of five, gleefully responding to requests for your manuscript—a version you tweaked with vague comments from the agents who liked your book, but not as much as they liked your brilliant sell. (It was a stellar query letter.)
Your friends told you not to lose hope. Of course not, you said before boring them with query-letter lore: J.K. Rowling, Kathryn Stockett, etc. You gave friends and family your request statistics despite their glassy stares. You found reasons to say the words "Eight agents are reading my novel."
More rejections came. You wondered if you should revise the book again, but the conflicting opinions of the thirteen agents who read some portion of it, or all of it, confused you. You lost your way and your voice. You wondered if it was time to give up. But Kathryn Stockett, Kathryn Stockett, Kathryn Stockett. (Sixty agents rejected her. SIXTY!)
Now, instead of working with the new characters and plot you've imagined—you're researching agents again. You haven't written anything new in six months. Rejection is demoralizing, but starting over is terrifying. You're sending out query letters to every new agent on the scene. You're out of control.
My friend, you're addicted to finding a literary agent. You need help.
I know because I've been there. Once upon a time (almost two years ago), I realized I'd forgotten to employ the enthusiasm, determination, and sense of perfectionism to my manuscript that I brought to the process of trying to find an agent. But even after I recognized the flaws in my novel, it took some time to step off the agent-search roller coaster. Why? Once I was in the cycle of sending out letters and actually communicating with publishing professionals, the idea of walking away from the potential high of an agent's offer seemed worth the endless lows I'd have to experience first.
It takes good instincts to know when you're a Kathryn Stockett and when you're beating a dead horse. I only sent my query letter to thirty agents. Then despite some agents reading revisions and offering to read yet another revision, I put that novel in the virtual drawer before seeing the process through to what I suspect would've been the end. Some would say I gave up too soon considering I'd garnered interest, but ultimately I didn't feel that particular novel deserved the wide audience I'd deemed it worthy of at first. (That's also my answer to the inevitable question: Have you considered self-publishing?)
BUT HOW DID I BREAK MY ADDICTION TO FINDING AN AGENT?
First I had to accept that what drew me to the agent-search process other than the dream of publication was not an unfaltering belief in the merit of my novel, but rather the desire to feel less isolated in my work. The idea of a publishing professional reading my words was hard to resist. Eventually (thank goodness) the quality of my work mattered more to me than the mere existence of it (if that makes sense). I also discovered other ways to dip my toe into the publishing world. I found an incredible critique partner for my newest novel-in-progress; I wrote short stories and enjoyed working with editors; I wrote guest posts for some popular blogs; I joined Twitter; then later started this blog (which people seem to read). I also joined Backspace (a writing community), and I attended a weekend writing conference in Boston. I found time for all that only after ending my desperate search for an agent. I'm a better writer because I moved forward.
If you've found yourself researching agents at a point when you should be focused on writing, here are the rules you must follow IMMEDIATELY:
Write. 
We all need a break while we're writing. Instead of searching the internet for stories of how people found their agents or debates about self-publishing, read about authors' writing processes on excellent sites like Writer Unboxed and Beyond the Margins.
Instead of following so many agents on Twitter, follow experts on storytelling such as Larry Brooks (@storyfix) and James Scott Bell (@jamesscottbell). Focus on writing, not on the publishing industry.
Write. Revise. Repeat.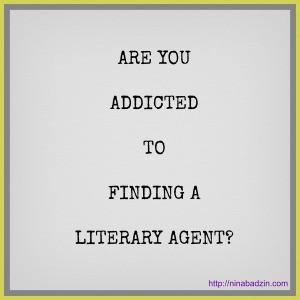 The following two tabs change content below.
Nina Badzin is a freelance writer, a lead writing instructor at ModernWell in Minneapolis as well as ModernWell's book club director. She reviews 50 books a year on her blog, writes reviews for other sites, and has a friendship advice column at The HerStories Project. She lives in Minneapolis with her husband and four children.
Latest posts by Nina Badzin (see all)