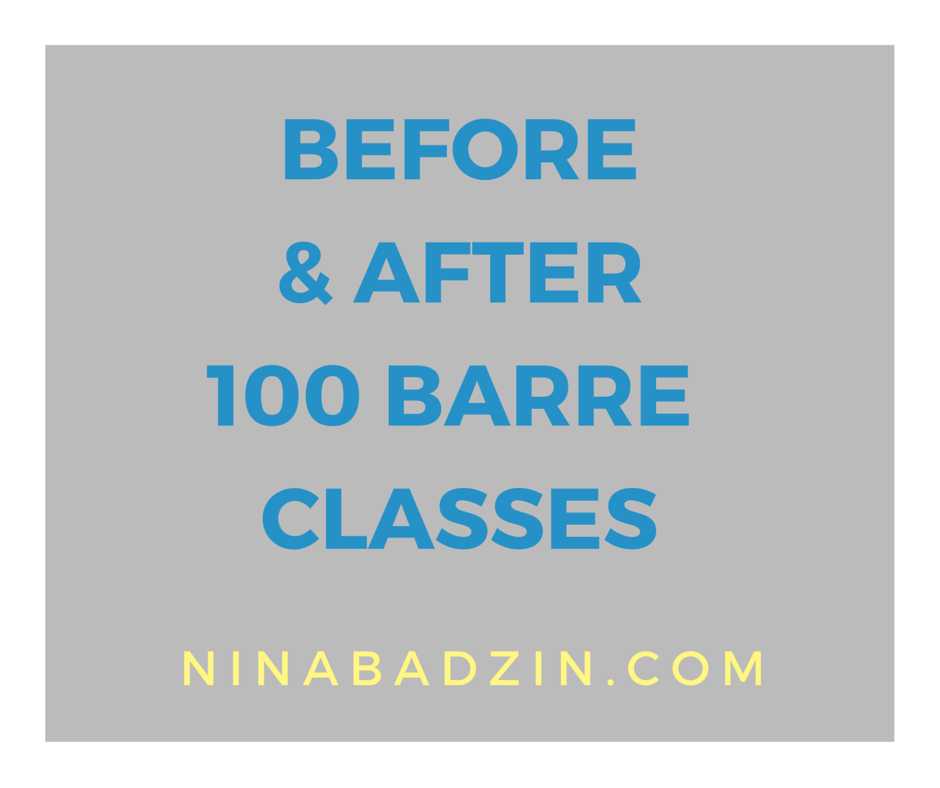 Last spring when I wrote about my first experiences with barre, I was already a devotee. So do barre classes work?. Did 10-20 sessions transform my body? Well, not directly or immediately. But a month or so of showing up at the Pure Barre studio marked the first time in my life that I did not dread exercising. Twenty classes led to to 30 classes then 40. If you read the title of this post, then you know I made it to 100, which was a MAJOR milestone for me.
BEFORE BARRE
To recap my previous barre post, prior to trying barre I was not an exercise person. In high school I exercised on and off to early-90s classics like Cindy Crawford's Shape Your Body video. In college the random exercise routine I sometimes implemented could not undo the damage of eating too much too often. After college and in my early married years (which, incidentally, were one in the same since I was practically 12 on my wedding day) I belonged to a gym but rarely went there so I cancelled the membership.
After my first son was born, I exercised regularly at home, but never with any gumption. Two daughters and another son later, I couldn't imagine exercising in a group setting after so many years of sporting oversized t-shirts in the privacy of my basement. But I was intrigued when a barre studio opened close to my kids' schools. I had heard others swear that barre really works your muscles and that the method is fun (in a loose definition of "fun" by which I mean "not completely dreadful").
You can read more details on what the first barre class was like for me in my aforementioned post, "Pure Barre, Lululemon and My Search for Sculpted Arms."
AFTER BARRE
Ten months and 100 classes later, I found some sculpt in my arms! I can complete the push-up sequence that nearly killed me during the first few classes. And I still find all the arm, leg, butt, and abdominal work difficult enough to make the class a good challenge. Barre classes made me comfortable enough in the group exercise format to seek out other classes, too. I joined Lifetime Fitness about seven months into my barre routine to keep things interesting. I'm now also a fan of Lifetime's total conditioning classes with Heather, Katie, or Celeste, and warrior sculpt yoga, which is a fact I never would have predicted a year ago.
DO BARRE CLASSES WORK?
As barre has continued to gain popularity, I've noticed increased traffic to my blog with the search term "do barre classes work?" For the first seven months I went to classes an average of three times a week. Once I joined a gym, I went down to two barre classes a week and now it's more like once a week. I think that at once a week I'm still benefitting as long as I'm doing other workouts during the week, but I feel best when I can get there twice. So, do barre classes work? Yes, I think they do if you go regularly. The same can probably be said for spinning or any form of exercise you can learn to love or at least tolerate. Right?
---
*Updated in May 2014 to say I tried Corepower Yoga for a month and the full report is here.
---
The following two tabs change content below.
Nina Badzin is a freelance writer, a lead writing instructor at ModernWell in Minneapolis as well as ModernWell's book club director. She reviews 50 books a year on her blog, writes reviews for other sites, and has a friendship advice column at The HerStories Project. She lives in Minneapolis with her husband and four children.
Latest posts by Nina Badzin (see all)