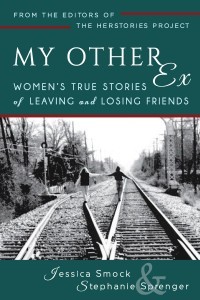 There's a book coming out next week that made me want to cry with relief. (I was lucky to read an advanced copy.) My Other Ex: Women's True Stories of Leaving and Losing Friends is a collection of essays by women who analyze the end of a particular friendship in their lives. The reason I loved this book so much, other than the quality storytelling and countless good points that I seemed to be highlighting every few minutes, was that it made me feel less crazy for thinking about friendship so much. These women do, too! (If you haven't heard, I'm starting an advice column soon at theherstoriesproject.com all about "modern connections.")
Jessica Smock, who co-edited the book along with Stephanie Sprenger, says that they started this project with the desire to look for answers for why women dwell on past friendships so much. "We wanted to know why these stories resonated so deeply with women, years and decades later, revealing wounds deeper than the scars left from romantic relationships." In that search for answers, Smock and Sprenger wisely divided the essays into patterns such as childhood friendships, adult friendships, friendship issues that specifically involve the role of motherhood, reconciliations, and general reflections.
I saw other patterns, too. In Victoria Fedden's letter to her unnamed former friend, we see how much Fedden wants her ex-friend to know the success she's experienced and how much she's changed. Don't many of us want the friends that left us behind to notice us and hear about our good news? Catherine Carson echoes this reality, too, when she thinks about what it would be like to run into her former best friend. She says, "I'd want to show her who I'd become, how far I'd come into myself."
Chelsea Schott, Angela Amman, and Allison Carter all write of their shame for abandoning a friend. Meredith Napolitano reflects on the pain of a friend abruptly ending the friendship with no explanation, then understanding that friend's choice when she [Meredith] later is the one to leave a friend seemingly out of the blue without telling her why.
Another pattern comes from women who feel they were to blame for a friendship's demise. Some blame the other friend, and there are those who are not sure exactly what happened. Suzanne Barston summarizes one of the more likely scenarios: "I don't know who left whom, or if anyone really left at all, or rather just failed to appear." I also nodded vigorously when Arneyba Herndon states that many of us possess the knowledge that a friendship wasn't quite right, balanced, or even good for us, yet we miss aspects of it anyway and wonder if the relationship could have been saved.
Some of the essays caused me to shout things to my Kindle because the pain from the past was so palpable. Throughout  Alexandra Rosas's superb essay, I yelled, "Stop calling her!" To Cheryl Suchor I said, "She's cruel! You don't want her back!" When Jennifer Simon hopes to receive a wedding invitation from a close friend who has shut her out, then receives one on accident and has to be told she is actually not invited, I felt Simon's humiliation.
Of all the essays, I perhaps related most to Leah Vidal's description of being on the receiving end of biting comments from her close friend. She says, "While I never addressed the comments I also stopped sharing parts of my life with her. I'm not sure if it was out of embarrassment or to avoid such comments in the future. Either way, our phone calls become few and far between." I have been there, and like Vidal, I let the relationship whither to a state of surface politeness, a different sort of breaking up where we're still in each other's lives, but the intimacy is gone.
Another pattern in many of the essays is a sentiment of regret, which is stated succinctly by Shannan Ball Younger when she reflects on the friend who changed so much and drifted away: "I don't know why I didn't just call her. I'm sorry I never reached out. I don't know why I didn't." I have been there, too.
We get a reprieve from some of the heartbreak with a few stories of reconciliation. Estelle Erasmus's and Hallie Sawyer's stories of a friendship reconciliation that brought them even closer to their friends than before the drifting apart reminded me of the way I reconnected with one of my best friends from college years after our breakup, a story I told in the first collection published by The Herstories Project. Alison Lee wrote about reconciling with an online friend, a new world of relationships many of us here in the blogging world joyfully (and sometimes awkwardly) navigate as actively as our non-virtual friendships. Lea Grover's story of getting her sister back in her life was moving and powerful. (You'll have to read the book to find out why they didn't speak for years.)
While I really liked going on a friendship journey with each writer, I also appreciated the final section of the book titled "What We've Learned." Editor Stephanie Sprenger begins the section with some reflections on what she's learned about friendship breakups. I liked her point that we shouldn't feel so ashamed about the friends who drift away as well as her realization that some of her closest friends are women who at one time had vanished from her life for years at a time.
In this final section of lessons learned, Galit Breen admits to having been a serial friend abandoner, someone who pulls away when a friend did something that upset her. Breen's essay and her self-awareness about shutting out friends when things got tense in order to avoid a deeper hurt illustrated Sprenger's important argument about how conflict can eventually bring people closer. Sometimes when one friend does the shutting out, however, she doesn't also get to mend the friendship on her time table. The other person may be too far gone by then, too hurt by the silence and space. In other cases, the cooling off period works for everyone involved. Every situation is unique. I appreciated Vicky Willenberg's reminder that sometimes a friendship can be saved by "making yourself vulnerable one more time in order to say 'I'm sorry' or 'I was wrong' or even 'I miss you.'
Kristin Shaw, however, makes a good point about the tricky eggshells that exist while putting a friendship back together. In Kristin's words: "It's hard to know when to stop bending over backward and just be yourself. You can lose yourself on the road back, wondering if you'll ever be good enough again. It has to be worth that trip back with each tiny step." I have found that in some cases the work involved in erasing those old hurts takes too much emotional negotiation, or the eggshell period lasts too long. There are times when it's worth reconciling, and times when it is not. Katrina Anne Willis's piece was a perfect one to come after Shaw's as Willis realizes that she needs to stop dwelling on a friendship that ended. She moves on from trying to find out why it ended or even hoping for some kind of happy ending. There are times when that's the only way to go. I have reconciled with no regrets and let go with no regrets, too.
What unifies all the essays is a brief but important mention in Alexis Calabrese's piece. She says, "The good news is I have learned from our breakup. Like all long-term relationships that meet their demise, there is wisdom in the wake."
There is much wisdom in the pieces I mentioned here and in all the ones I didn't have space to name. Trust me and read this collection of essays! If you've lost a friend or left a friend (most people I know have been in both positions), you will relate and respect the writing, too. You can order the book here.
The following two tabs change content below.
Nina Badzin is a freelance writer, a lead writing instructor at ModernWell in Minneapolis as well as ModernWell's book club director. She reviews 50 books a year on her blog, writes reviews for other sites, and has a friendship advice column at The HerStories Project. She lives in Minneapolis with her husband and four children.
Latest posts by Nina Badzin (see all)