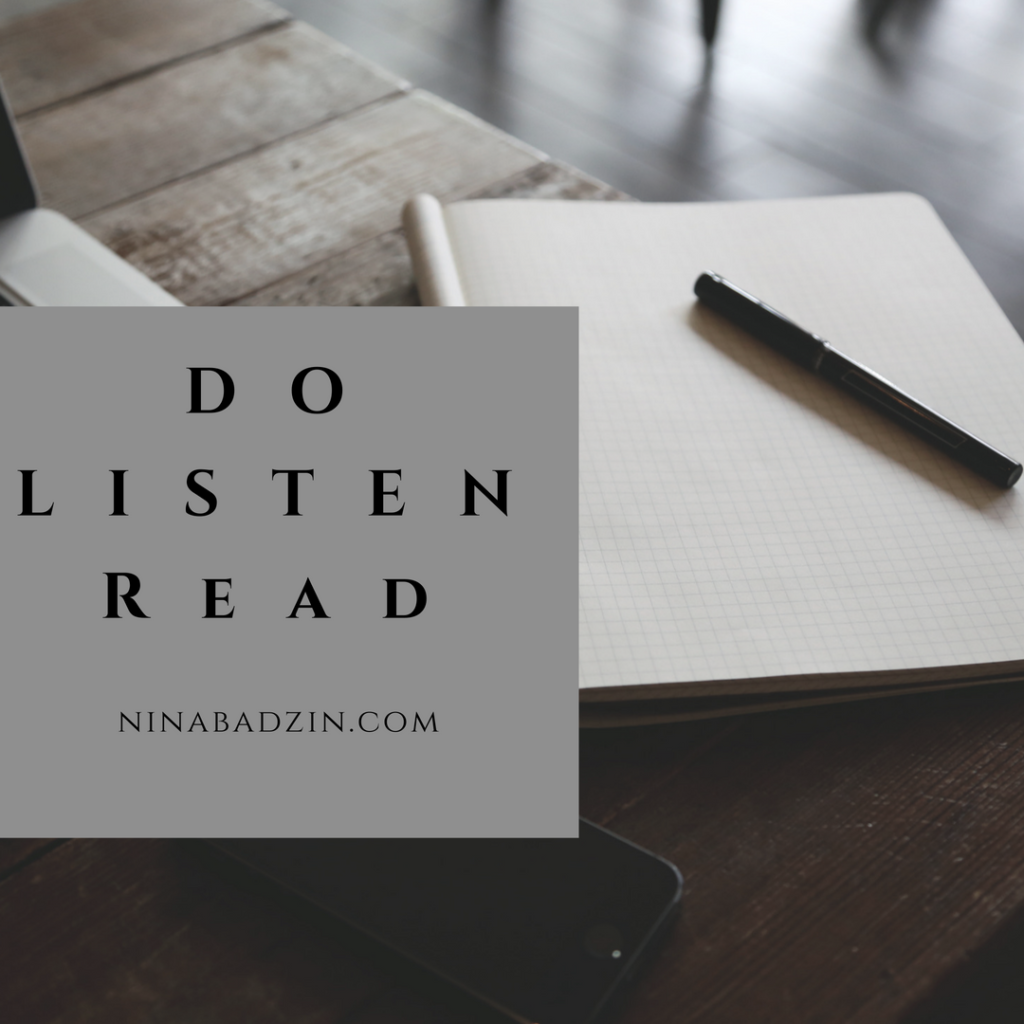 Today's "Do Listen Read" post is heavy on the listen (and watch). I'm late to the party on some already-popular cultural experiences. First one: Hamilton. Second one: Amazon Video
 and Amazon Music.
I've been an Amazon Prime member for years, but I only used it for the shipping benefits. I didn't realize I could easily stream music and watch shows and movies with my membership.
DO/LISTEN/WATCH
HAMILTON: Almost everyone has been singing the praises of Hamilton for a long time. I held out because I wanted to see the show first. Well, I live in Minneapolis and don't get out of town often so I finally succumbed to the soundtrack once I realized I could stream it for free with my Prime membership. I loved everything about it right away. Then I watched the PBS special about the making of Hamilton and appreciated the creativity and hard work that went into the storytelling even more. So yes, my most enthusiastic recommendation this month is to start listening to Hamilton even if you can't see it on stage yet (or ever). My favorite song is Aaron Burr's heartfelt "Wait For It
."
RED OAKS: A friend recommended this show about a Jewish country club in the 80s. I liked it a lot! The season one trailer is here: Red Oaks – Season 1 Official Trailer
.
CATASTROPHE: This Amazon show is a bit on the crass side in terms of language and sex so for sure make sure no kids are around. The writing is clever and I love the acting. Highly recommend. Maybe even more so than Red Oaks if you have to choose one.
GILMORE GIRLS REVIVAL: I've been non-stop about Gilmore Girls. I wrote a long review of the four-episode miniseries on Netflix. The comments on my post from fellow fans are a great part of the conversation. If you're in the mood for a GG discussion then head over to my post from a few days ago.
GIFT I BOUGHT MYSELF TO WATCH THIS STUFF: My cousin Amy (thanks Amy!) recommended the  All-New Fire TV Stick. It's a tiny gadget you plus into your TV, which allows you to access your Netflix, Prime, and other streaming memberships all in one place. It was $29.99 on Black Friday, which is what I paid. I think at most it's $39.99 if not on sale. Let's hope either Bryan or I can figure out how to set it up once it arrives.
READ
I loved these tips in the Minneapolis Star Tribune on how to be a good party guest. My favorite one: Don't forget to reciprocate!
My 2016 reading list is as current as possible. I'm reading #46, #47, and #48 now in a hurry to make it to my personal goal of 50 books by the end of December. Does it matter if I meet the goal? No, but I get a thrill out of reaching it, and I haven't missed the mark in six years of keeping track of the books. I don't plan to underperform this year!
(FTC disclosure: links to Amazon could earn me a penny or two. You're so generous!)
---
The following two tabs change content below.
Nina Badzin is a freelance writer, a lead writing instructor at ModernWell in Minneapolis as well as ModernWell's book club director. She reviews 50 books a year on her blog, writes reviews for other sites, and has a friendship advice column at The HerStories Project. She lives in Minneapolis with her husband and four children.
Latest posts by Nina Badzin (see all)