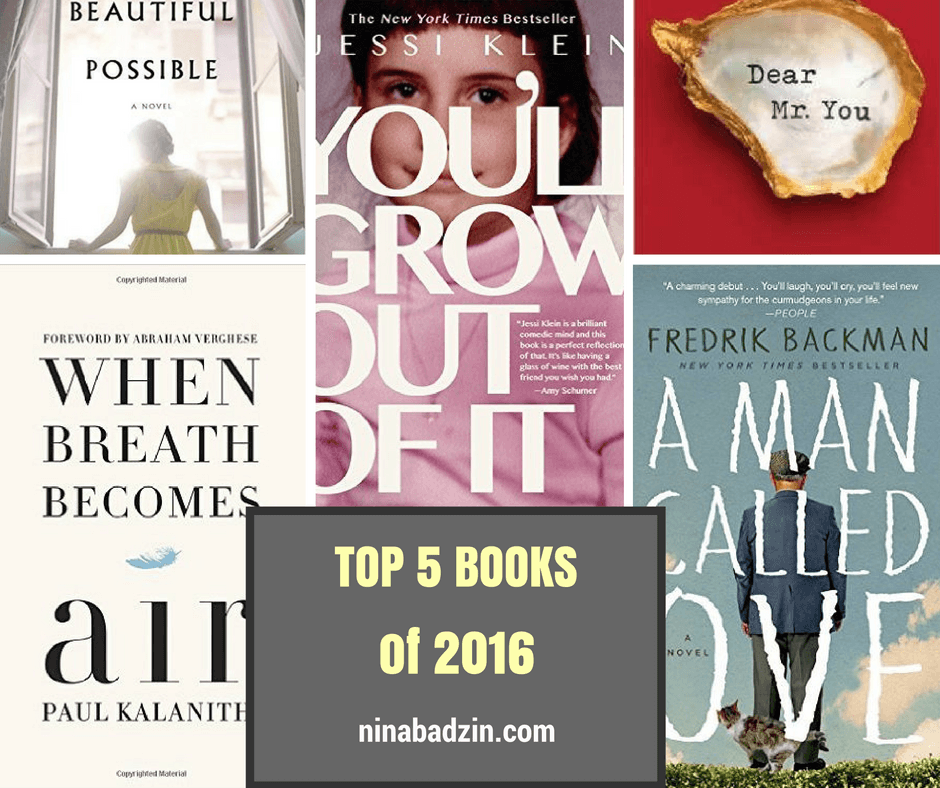 ---
I loved many of the 50 books I read in 2016 and liked even more. But I forced myself to pick my top five. Here they are in no particular order! (There are Amazon affiliate links in this post.)
WHEN BREATH BECOMES AIR by PAUL KALANITHI
When Breath Becomes Air is a beautifully written memoir about life, grief, and so much more. Deserving of every bit of praise. Have a box of tissues handy.
DEAR MR. YOU by MARY LOUISE PARKER
A book of essays in the form of letters to various men. I'm not doing the book justice with that description. It was astute and all around excellent. I skimmed some of the letters, but the ones I savored made this whole book worthwhile and definitely one of my favorites of the year. The whole concept was so original, which counts for a lot, too.
YOU'LL GROW OUT OF IT by JESSI KLEIN
Listened to this one and laughed out loud numerous times. I found Klein's observations about life and specifically womanhood to be smart, original, and spot on.
THE BEAUTIFUL POSSIBLE by AMY GOTTLIEB
At Great New Books our team members each picked a favorite from 2016, and I picked Gottlieb's fantastic novel. I've mentioned it numerous times this year in person and online.
A MAN CALLED OVE by FREDRIK BACKMAN
Great read with unexpected turns. Solid writing and a character I grew to love and have continued to keep thinking about months later. Have a box tissues handy for this one, too.
---
The following two tabs change content below.
Nina Badzin is a freelance writer, a lead writing instructor at ModernWell in Minneapolis as well as ModernWell's book club director. She reviews 50 books a year on her blog, writes reviews for other sites, and has a friendship advice column at The HerStories Project. She lives in Minneapolis with her husband and four children.
Latest posts by Nina Badzin (see all)