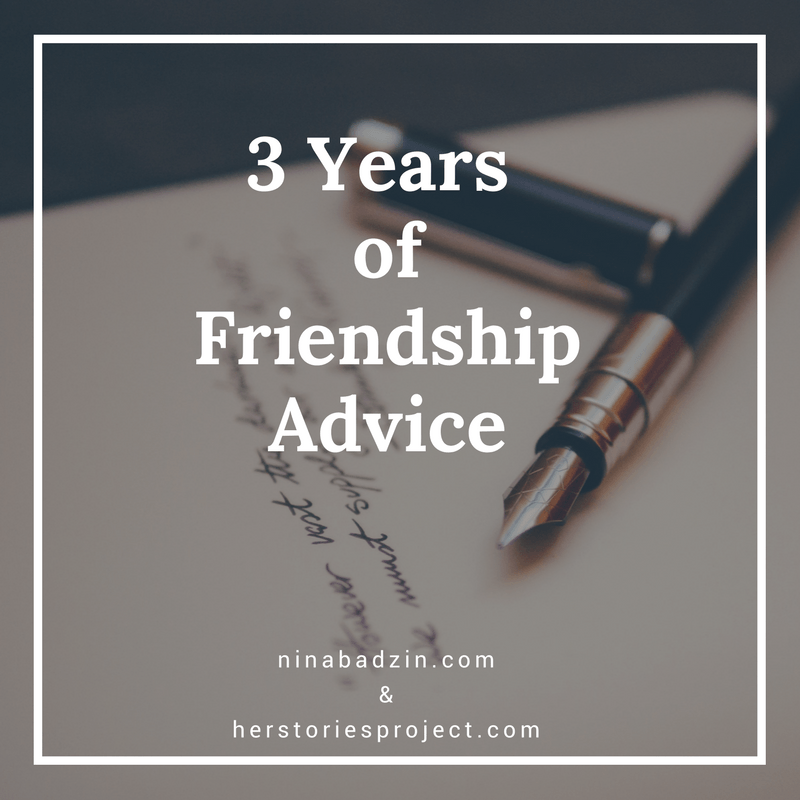 It's National Friendship Day! I'm not sure how that's supposed to play out in real life, so I am "celebrating" by acknowledging I've given three years of friendship advice at The HerStories Project.
And in those three years I've never repeated a question, a fact that is not a credit to me. It's a credit to the fabulous readers out there who offer their conundrums for everyone to consider and learn from as well. I consider the column a community spot, not "my" spot. I love the conversations that happen in the comments as readers weigh in on all sides of an issue and offer insights to help.
We are always taking new questions at The HerStories Project so please keep writing your anonymous questions in the easy to use form. Curious what we've already covered? See below! AND HAPPY FRIENDSHIP DAY! 
Long Distance Limbo and Friends Who Put You Down, September 2014
Reconnecting After a Friendship Break and Friends Who Disappoint During a Crisis, October 2014
Making Friends in a New City, November 2014
When You Detest Your Friend's Spouse and Friends Who Over-ask For Help, December 2014
The More the Merrier vs. Quality Time, January 2015
Turning an Acquaintance Into a Friend, January 2015
Sharing Friends With an Ex-Friend, February 2015
Imbalance in a Friendship, February 2015
Bucking a Trend: Birthday Parties and More, March 2015
When a Friendship Gets Too Close Too Quickly, March 2015
Missing Friendships With the Opposite Sex, April 2015
When a Close Friend Does Not Support Your Passion, April 2015
When Your Friendships Feel Shallow, May 2015
Staying Friendly Without Committing to a Friendship, May 2015
When Friends and Family Make Racist Comments, June 2015
Only When Her Real Friends Are Busy, June 2015
Dropped From a Group of Friends, July 2015
On Being Asked for Professional Favors, August 2015
Struggling With Envy, September 2015
Unfriending on Facebook, October 2015
When to Stop Saving a Friendship, November 2015
I Like You, But Not Enough For a Long Distance Visit, December 2015
Dropped By Another Couple January 2016
When You Think Your Friend's Engagement is a Mistake February 2016
Ex-Friends Reconnecting After a Loss in the Family March 2016
When a Group of Friends Falls Apart April 2016
I Can't Figure Out if She Wants to be Friends May 2016
A Friend Who Gives Too Many Gifts June 2016
Friendship with a Difficult Sister-in-Law July 2016
The Social Media Cold Shoulder September 2016
No, Friendship Shouldn't Be This Hard October 2016
Hearing Gossip a Friend Said About You November 2016
Platonic Friendships and Jealous Spouses December 2016
Working With The Friend Who Dumped You January 2017
Friends Connectors vs. Friend Hoarders February 2017
Friends Who Cancel Plans Too Often March 2017
Can The Adults' Friendship Survive After The Children's Friendship Ends April 2017
Trying (Too Hard) to Reach BFF Status May 2017
A Botched Weekend Away With Friends June 2017
A Friend Who Will Only Communicate Via Text July 2017
---
The following two tabs change content below.
Nina Badzin is a freelance writer, a writing workshop leader at ModernWell in Minneapolis, ModernWell's book club host, and the friendship columnist at The HerStories Project. She reviews 50 books a year on her blog and writes essays, short stories, and articles for other sites and print magazines. She lives in Minneapolis with her husband and four children.
Latest posts by Nina Badzin (see all)